International Scale Rock Crawler Championship™
Sep 24-25
AMFI Alsóörs
Alsóörs, Hungary
Final Ranking
| FR | Name | C1 | C2 | C3 | C4 | C5 | C6 | TS |
| --- | --- | --- | --- | --- | --- | --- | --- | --- |
| 1 | Bálint Czere (HU) | -16 | -19 | -25 | -39 | -40 | -40 | -179 |
| 2 | Nándor Neruda (HU) | -32 | -3 | -28 | -17 | -40 | -38 | -158 |
| 3 | Petri Kivikoski (FI) | -4 | -20 | -30 | -27 | -40 | -34 | -155 |
| 4 | Zsolt Szabados (HU) | -33 | -9 | -29 | 1 | -20 | -40 | -130 |
| 5 | Tamás Szivós (HU) | -34 | -13 | 26 | -19 | -40 | -38 | -118 |
| 6 | Tamás Szijjártó (HU) | -10 | -25 | 22 | -19 | -38 | -38 | -108 |
| 7 | András Várady-Szabó (HU) | -33 | 22 | 22 | -15 | -24 | -30 | -58 |
| 8 | Horatiu Chindris (RO) | -34 | -2 | 22 | 26 | -40 | -29 | -57 |
| 9 | Márk Szijjártó (HU) | 8 | 0 | 6 | 13 | -37 | -37 | -47 |
| 10 | Pierre Silva (HU) | 26 | -9 | 22 | -6 | -40 | -37 | -44 |
| 11 | Adrian Prund (RO) | -22 | -20 | 22 | 50 | -30 | -40 | -40 |
| 12 | Andrea Ceresini (IT) | -20 | 5 | 22 | 26 | -29 | -40 | -36 |
| 13 | Péter Kovács (HU) | -9 | -4 | 22 | 24 | -40 | -29 | -36 |
| 14 | Adrian Fratila (RO) | -8 | 22 | -4 | 26 | -40 | -24 | -28 |
| 15 | Bogdan Craiciu (RO) | -5 | 26 | -29 | 50 | -39 | -30 | -27 |
| 16 | István Ádám (HU) | 11 | 22 | 26 | -3 | -36 | -40 | -20 |
| 17 | Clemens Toscani (AT) | 28 | -13 | 22 | 22 | -38 | -35 | -14 |
| 18 | Daniel Siegl (AT) | -10 | 22 | 22 | 18 | -39 | -17 | -4 |
| 19 | Cristian Marin (RO) | -6 | 24 | 22 | 17 | -40 | -8 | 9 |
| 20 | Florin Ionita (RO) | 26 | 22 | -3 | 26 | -39 | -18 | 14 |
| 21 | Busca Dragos (RO) | -8 | 24 | 34 | 28 | -39 | -5 | 34 |
| 22 | Stefan Lindner (AT) | 30 | 17 | 6 | 30 | -25 | -22 | 36 |
| 23 | Radu Andreas Balasiu (RO) | 26 | 26 | 28 | 34 | -28 | -31 | 55 |
| 24 | Gerhard Kovarik (AT) | 24 | 8 | 34 | 30 | -35 | 7 | 68 |
| 25 | Dan Iosif Frandos Baias (RO) | 32 | 28 | 28 | 30 | -19 | -12 | 87 |
| 26 | Zian Andrei Balasiu (RO) | 34 | 24 | 36 | 34 | -18 | -7 | 103 |
| 27 | Tiago Gonçalves (PT) | -25 | -29 | 22 | 36 | 50 | 50 | 104 |
| 28 | Siminiceanu Silviu (RO) | 32 | 28 | 38 | 40 | -28 | 24 | 134 |
| 29 | Emilian Toscani (AT) | 36 | 28 | 34 | 32 | 10 | 9 | 149 |
| 30 | Cezar Chindris (RO) | 34 | 24 | 24 | 26 | -7 | 50 | 151 |
| 31 | Márcio Correia (PT) | 5 | 50 | 50 | -10 | 50 | 50 | 195 |
| 32 | Bora Catalin (RO) | 34 | 50 | 34 | 50 | -16 | 50 | 202 |
| 33 | Adrian Bucur (RO) | 36 | 30 | 24 | 50 | 50 | 50 | 240 |
| 34 | Vicentiu Mihai Dascalu (RO) | 36 | 38 | 36 | 40 | 50 | 50 | 250 |
| 35 | Bora Horatiu (RO) | 36 | 50 | 50 | 50 | 50 | 50 | 286 |
Markings
C1S, C2S, C3S, … – Course # Score
TS – Total Score
FR – Final Ranking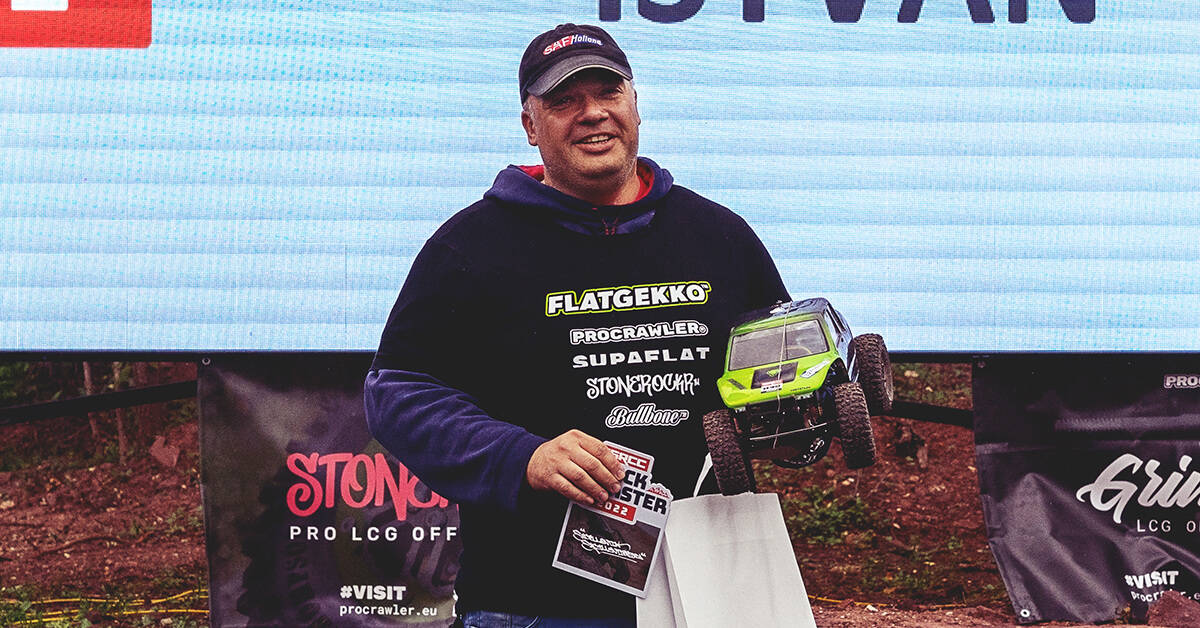 Final Ranking
| FR | Name | TS | TT |
| --- | --- | --- | --- |
| 1 | István Ádám (HU) | -13 | 7:24 |
| 2 | Zsolt Szabados (HU) | 3 | 5:41 |
| 3 | Petri Kivikoski (FI) | 3 | 6:07 |
| 4 | Adrian Prund (RO) | 4 | 8:01 |
| 5 | Bálint Czere (HU) | 9 | 8:02 |
| 6 | Pierre Silva (HU) | 22 | DNF |
| 7 | Andrea Ceresini (IT) | 22 | DNF |
| 8 | Tamás Szivós (HU) | 24 | DNF |
| 9 | Horatiu Chindris (RO) | 24 | DNF |
| 10 | Péter Kovács (HU) | 28 | DNF |
| 11 | Adrian Fratila (RO) | 30 | DNF |
| 12 | Cristian Marin (RO) | 32 | DNF |
| 13 | Nándor Neruda (HU) | 36 | DNF |
Markings
TS – Total Score
TT – Total Time
FR – Final Ranking
ISRCC™ EU 2022
is the official franchise competition event of
ISRCC™ International Scale Rock Crawler Championship
founded by IRCCF® (International Radio Controlled Rock Crawler Competitors Federation) with 10 gates and a maximum time limit of 10 minutes per course. Number of courses per day yet to be determined depending on the total number of registered comp drivers.
ISRCC™ is a global performance-driven scale rock crawler competition event format and aimed to provide premium quality annual competitions worldwide for all the drivers who keep challenging the limits of their scale rock crawlers and driver skills.
The ISRCC™ Ruleset is proudly based on the actual WRCCA Performance Scale rules with minor modifications belonging to the scope of localization.